Elk jaar produceert België enkele toppers. Vaak beslissen mensen om die films niet te zien. Waarom? Een combinatie van aspecten. Wij bij Cinestan hebben beslist jullie allezins op de hoogte te houden van hun release dates, zodat jullie weten wanneer je welke film moet gaan zien.
Welcome Home
Een film die nu al in de zalen is.  De film vertelt het verhaal van Lucas, 16, en Bert,18, die beslissen om te vertrekken uit hun familiaal cocon. Een echte roadmovie dus, die voor het nodige specktakel zorgt. Philippe De Pierpont bezorgde ons al de film"Elle ne pleure pas, elle chante" en kan nu rekenen op twee opkomende talenten: Arthur Buyssens ("Le fils du blanc", "Premiers pas") en Martin Nissen("Les géants")
De film won op het FIFF (Festival International du Film francophone de Namur ), de prijs van de Jury, een mooie erkenning.
Problemski Hotel
RELEASE DATE: nu al in de zalen
Een heel actuele film, want de film vertelt het verhaal van verschillende mensen in een opvangcentrum voor migranten. De film is geïnspireerd op het gelijknamig boek van Dimitri Verhulst.
De film draait rond de Belgische bureaucratie en hoe absurd die wel kan zijn. De film is dus niet voor iedereen. Maar zal de liefhebbers van de surrealistische films wel smaken. "Problemski Hotel" wordt geregisseerd door een documentaire maken, die de sprong naar fictie waagde met films als "Can a Man Change the City" (2010), of "Snake Dance" (2012)
Broer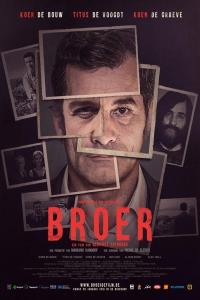 RELEASE DATE: 20/01
Mark Lebeer (Koen De Bouw) wil in Ierland een steenrijke weduwe oplichten en doet zich voor als haar vroegere minnaar, zijn eigen broer (Koen De Graeve).
De film bezit een stevige cast en dito regisseur met Geoffrey Enthoven ("Hasta la vista" en "Meisjes"). De film werd door door de Belgische critici met gejuich onthaald en is dus veelbelovend.
Les Chevaliers Blancs

RELEASE DAT : 27/01
"Les Chevaliers Blancs" is de nieuwe film van de bekende Belgische regisseur Joachim Lafosse  ("A perdre la raison"). De film was aanwezig op het festival circuit:Toronto, Angoulême, en viel het zelfs in de prijzen in San Sebastian.
De film vertelt het hartverscheurend verhaal van een NGO die 300 weeskinderen wil redden uit Tchad om ze aan adoptie ouders in Frankrijk te kunnen schenken. Maar de realiteit overtreft hun verwachtingen en de mensen van de NGO worden meegesleurd in het conflict.
Joachim Lafosse heeft twee toppers voor de hoofdrollen kunnen strikken namelijk : Vincent Lindon (Welcome) Valérie Donzelli (La Guerre est déclarée)
Een film die een andere blik toont van een hedendaags conflict.